The AmainSolutions UserManager is the most complete, most efficient Lotus Notes user management solution currently available. The UserManager has the added advantage that it's an out-of-the-box application, which means that it is immediately ready for use. It gives you total control over your Lotus Notes system's users.
What has the UserManager to offer?
Working with the UserManager you are able to offer a new employee completely controlled access to your Lotus Notes system in just a matter of seconds, without having to compromise security, flexibility or data security.
Granting a new employee access to your Lotus Notes system is very simple for the authorised user, because you can configure the UserManager in advance. Beforehand you can enter all departments, functions and rolls within your organisation and link that with the desired settings like user rights and server names. You can predefine all settings to make sure you won't forget any settings or have difficulty with certain options. Therefore the know-how needed to enter and manage user accounts is reduced to an absolute minimum. Using the UserManager is entirely intuitive. After all, the human factor is in the end the main factor to the successful implementation of a product. The UserManager is developed with the underlying idea that some practical experience is needed to efficiently carry out infrastructure management on your Lotus Notes system.
Working with the UserManager you can reduce the time and effort, needed to enter new users into your Lotus Notes system, to merely a few clicks of the mouse. This results in a substantial decrease in management costs.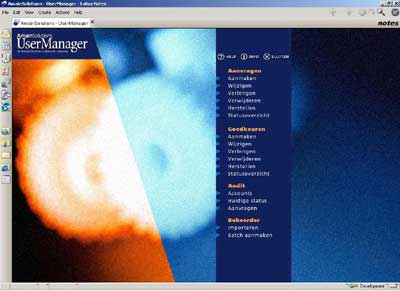 What has AmainSolutions to offer?
Next to useful solutions, AmainSolutions offers you the possibility to efficiently carry out user management at reduced costs.
AmainSolutions's specialists have extensive experience in the field of user management, which enables them to give expert advice and to guide you in setting up a user management system within your organisation. Together with our specialists you will create an effective user management system for your Lotus Notes environment. We also:
Train the users of the UserManager;
Have a helpdesk available for questions;
Have an internet site available where your administrators can on-line ask questions and share information with other members of the user groups.

What else?
Owing to the UserManager tasks that previously could only be assigned to specialised administrators can now be assigned to employees in i.e. Human Resource Department. In this way security is upgraded, because administrators no longer need to have access to Lotus Notes certificates nor the corresponding passwords to carry out their administrative tasks. At the same time your personnel officer is able to enter new employees without interference.
Imagine what this means for the level of security, cost reduction and shortened time of application!
UserManager characteristics:
User-friendly
Safe, consistent and structured
Simple and efficient in use
Employable in the whole organisation
Suitable for every organisation
Entirely based on Lotus Notes
Out-of-the-box application
Entirely configurable
Scalable and flexible